CITY CEMETERY
Conneaut, Ohio
Located on Liberty Street.
Some of the following stones are selected because of their age and state of deterioration and some are selected because of their unique designs. If you want a stone photographed, please contact me at: conneaut44030@hotmail.com
Thanks,
~Sharon Wick~
PATTERSON
Ephraim Patterson
Died May 19, 1864
Aged 66 Years
Alice, his wife
Died Sep. 21, 1869
Aged 74 Years
Mary
Died Aug. 27, 1900
Aged 67 Years

MORE INFO TO COME
BOLSTER
Infant Child
of
James & Esther
FERGUSON
Died 1884

Dollie Ann
wife of John F. BOLSTER
Died Aug. 5, 1905
Aged 64 years 4 months 16 days


P. H. RELYEA
Died Oct. 16, 1874
Aged 61 Years & 6 Months

COUGHLAN / CAPRON
Abigail COUGHLAN
Born: Dec. 26, 11824
Died Apr. 11, 1891
Fred E. COUGHLAN
Died June 10, 1882
Aged 37 Years

Abigail COUGHLAN

Fred COUGHLAN

_____
Son of
T. F. & M. _ GIBSON
Died Sept. 28, 1871??

WRIGHT PLOT

There are plot markers on both ends of the WRIGHT Plot.
Alfred H. WRIGHT
1827 -1878

Eunice H. WRIGHT
1816 - 1844

Fanny WRIGHT
1790 - 1872

Jane C. WRIGHT
1827 - 1914

Marshall W. WRIGHT
1818 - 1912

Mather G. WRIGHT
1834 - 1874

Sarah W. WRIGHT
1820 - 1904

PELTON MONUMENT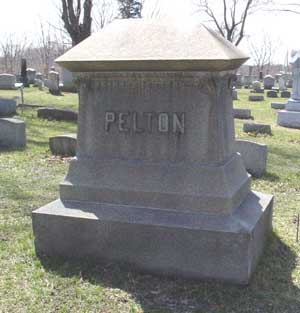 This stone is in the Pelton Plot. No names on it.

Amelia PELTON
1887 - 1887

Amanda PELTON
1866 - 1950
Judd PELTON
1862 - 1921

Delphine PELTON
1891 - 1893

John R. PELTON
1862 - 1893

Sophronia C. Beer
wife of
W. F. PELTON
1823 - 1900

W. F. PELTON
1818 - 1893
(Veteran)

GRANT MONUMENT
Agnes GRANT
dau of E. & M. C. GRANT
1848 - 1849

Julia E.
dau. of E. & M. C. Grant,
1845 - 1877

Mary C. Keyes
wife of
Edward Grant
1823 - 1909


CRANDALL MONUMENT
Isaac Crandall
b. 1823 d. Aug. 29, 1855

Reuben Sumner
b. 1798 d. 1852

John Crandall
b. Jan. 8, 1842
d. Feb. 6, 1862

Melissa Sumner
b. Sept. 2, 1839
d. Jul. 4, 1855

This Web Page Created by Sharon Wick 2004