TRASH & TREASURES
NOTICE: This business has been closed since I put this page on this website.
I am feel so badly about it as it was a great place to go.
~ Sharon Wick
On June 12th, 2003, my friend and I were driving home from shopping in Ashtabula via Route 20 and decided to stop and take a look inside of TRASH & TREASURES Antique Barn.
When you get to TRASH & TREASURES Antique Barn, you will be greeted by this scene in the front lawn near the road:
You will also be greeted by this cow:
We were greeted by one of the owners and she was a kindly elderly lady who had been sitting there putting together a photo album for an upcoming festival in Ashtabula Harbor. The book contained all kinds of pictures of different aspects of Ashtabula History. The great thing about these pictures was that each picture was reproduced from actual glass negatives. She said there were over 100 of these negatives which were stored by someone in New York who developed new photos as needed.
Below you will see one of the pictures of a Hewlett in Conneaut, Ohio made from one of these glass negatives.
Please Click on the Picture for a larger View.
A Mr. Hewlett invented the Hewlett machine which was designed for loading ore into large seagoing ore ships. He was allowed to place his Hewlett in Conneaut Harbor with the condition that if it didn't work, he was to remove it himself. It DID work.
The have recently been dismantled.
Next you can see some of the fine looking examples of items for sale in the TRASH & TREASURE Barn....
A fine display of Red Glass Dishes:
Next are some of the displays of various items for sale....
Hand Painted Lamp Chimneys, Shades & Burners...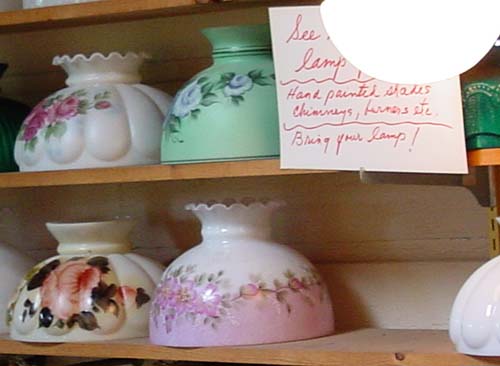 If you are looking for parts to restore or create a lamp, TRASH & TREASURES BARN has all sorts of authentic 'pieces and parts' to choose from.....
Next is a picture showing an assortment of lamps, old photos, dishes, and behind the lamps are old yearbooks and periodicals pertaining to Ashtabula, Ohio area.
FOR GENEALOGISTS: Please note that there is a wide assortment of pictures of the following families:
SPOONER, BENDER & PORTER
There is also a picture of a WETMORE girl standing with another girl.
There are a lot of unidentified pictures from Photo studios from Cleveland, Youngstown and Ashtabula area.
And MORE Lamps....
Unique Hanging Lamps....
An overall view of this lamp area is below.....
If you happen to go visit this fine Antique Barn, Please tell them I sent you.
Yours truly, Sharon Wick of Conneaut, Ohio History & Genealogy Website.
TO RETURN TO CONNEAUT, OHIO HISTORY & GENEALOGY WEBSITE,
PLEASE CLICK HERE.
This Webpage created by Sharon Wick 2003